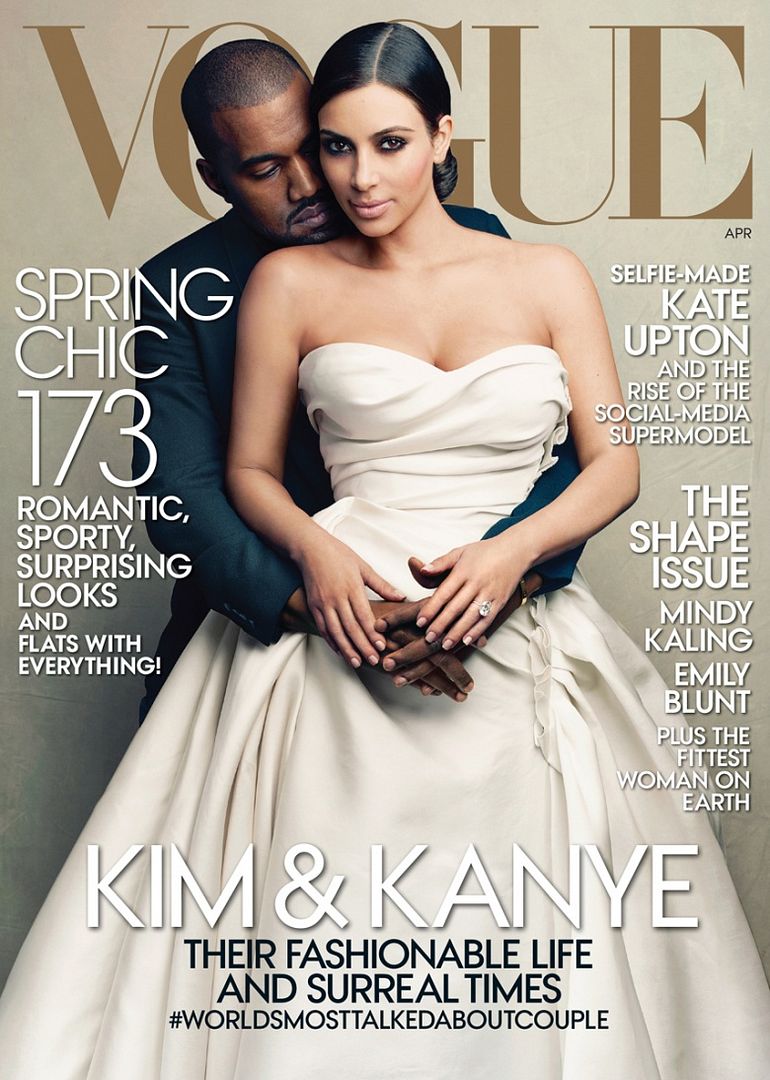 Kim Kardashian
has saw another one of her dreams come true!!!
The reality superstar and her rapper fiance,
Kanye West
, have landed the cover of the April 2014 issue of
Vogue
magazine, which means she has gained the approval of
Anna Wintour
.
The couple, who will reportedly wed on May 24th, give readers an inside look at their glamourous lifestyle and their gorgeous daughter North also appears in the spread, which was shot by famed photographer
Annie Leibovitz
.
Love her or hate her, there is simply no denying that Miss Kardashian looks absolutely stunning on the cover and as Wintour, the queen of fashion, pointed out in her statement, both she and West (#WorldsMostTalkedAboutCouple) have pretty much conquered every avenue of media available to them (and might I add, very successfully). Unlike others, I do not believe this hurts the magazine's brand or credibility, in fact, it makes sense because both have constantly expressed their love for fashion, both have their own clothing lines and their polarizing status in the world will only bring more attention to issue, which I think will end up as one of their best-sellers. Peep the Vogue editor-in-chief's statement defending her decision to put the duo on the cover and go behind-the-scenes of the shoot beneath:
"Part of the pleasure of editing Vogue, one that lies in a long tradition of this magazine, is being able to feature those who define the culture at any given moment, who stir things up, whose presence in the world shapes the way it looks and influences the way we see it. I think we can all agree on the fact that that role is currently being played by Kim and Kanye to a T. (Or perhaps that should be to a K?)

As for the cover, my opinion is that it is both charming and touching, and it was, I should add, entirely our idea to do it; you may have read that Kanye begged me to put his fiancée on Vogue's cover. He did nothing of the sort. The gossip might make better reading, but the simple fact of the matter is that it isn't true.

There's barely a strand of the modern media that the Kardashian Wests haven't been able to master, and for good reason: Kanye is an amazing performer and cultural provocateur, while Kim, through her strength of character, has created a place for herself in the glare of the world's spotlight, and it takes real guts to do that."

- Anna Wintour
You have read this articleKanye West / Kim Kardashian / Vogue (Magazine) with the title 'A Dream Come True': Kim Kardashian Stuns On First 'Vogue' Cover With Kanye West. You can bookmark this page URL http://stuartsandford.blogspot.com/2014/03/dream-come-true-kim-kardashian-stuns-on.html. Thanks!
Write by:
RC
- Saturday, March 22, 2014