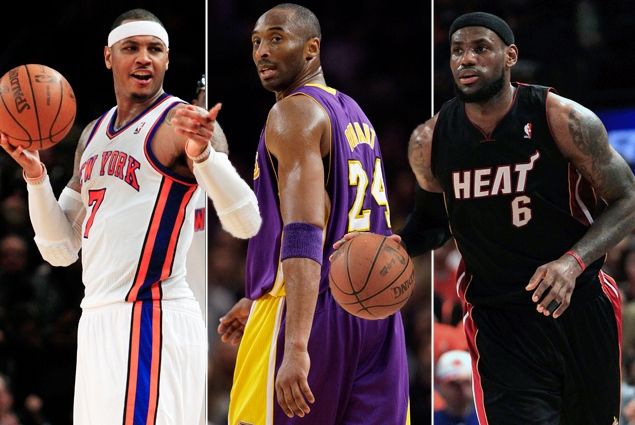 The 2012-2013 NBA season officially wrapped in April and the playoffs that followed saw the
Miami Heat
repeat as champions, but all of this passed by without us doing our fifth annual countdown of the
Top NBA Players
and
NBA Franchises of 2013
.
Based on their performances through April, the list sees the eventually MVP,
LeBron James
, top the list for the first time in his career, while despite his age, Achilles injury and team troubles,
Kobe Bryant
, remains a viable force on the list given his incredible showing throughout the season to will his team into the playoffs. Peep the lists below:
Top 10 NBA Players of 2013

01. Lebron James
02. Kobe Bryant
03. Carmelo Anthony
04. Kevin Durant
05. Tony Parker
06. James Harden
07. Stephen Curry
08. Chris Paul
09. Paul George
10. Dwyane Wade

Top 10 NBA Franchises of 2013

01. Miami Heat
02. San Antonio Spurs
03. Indiana Pacers
04. Memphis Grizzlies
05. Oklahoma City Thunder
06. Denver Nuggets
07. New York Knicks
08. Los Angeles Clippers
09. Golden State Warriors
10. Chicago Bulls
You have read this articleKobe Bryant / LeBron James / NBA Players / NBA Teams / Sports / Top 10 with the title Celebrity Bug's Top 10 NBA Players & Teams. You can bookmark this page URL http://stuartsandford.blogspot.com/2013/08/celebrity-bug-top-10-nba-players-teams.html. Thanks!
Write by:
RC
- Sunday, August 18, 2013